Travel information
Vilnius is a modern and rapidly developing European city. After Lithuania's accession to the European Union, its cultural and economic relations with foreign countries are expanding, therefore the number of tourists coming to Vilnius is on the increase. Guests are also attracted by the favorable geographical position of Lithuania, the so-called crossroads between the East and the West. It is in Lithuania, about 20 kilometers north of Vilnius, that the geographical center of Europe lies. The main practial travel and other tourist information is availabe here: http://www.vilnius-tourism.lt/en
Getting to Vilnius
Vilnius is served by two airports: the Vilnius International Airport (www.vilnius-airport.lt/en/), seven kilometers from the city center, and the Kaunas International Airport (www.kaunas-airport.lt/index.php?lang=en), approximately one hundred kilometers from Vilnius. There are shuttle buses between Kaunas International Airport and Vilnius (cost about 10 EUR, tickets can be bought online).
Lufthansa, SAS, and Ryan Air are among the airlines that have regular scheduled services to Vilnius.
Please note that you may need VISA to enter Lithuania. Please check, if your country is on a list of countries whose citizens do not require visas to enter Lihuania. For more information, please see Consular Information of the Ministry of Foreign Affairs of Lithuania.
Getting from the Vilnius International Airport
Vilnius Airport is about 8 km away from the conference venue.
Taxi
Taxi will take you to the city center or conference venue in about 15 min and will cost 10-12 EUR. Take a taxi booking service at Vilnius Tourist Information Centre at the Arrival Hall of the International Vilnius Airport. You will get the customer-friendly fares, there are no booking fee. It is cheaper  to call a taxi by telephone. The taxi fare is from 1 EUR per kilometre in the city. Do not get surprised if you are charged a taxi fare (1 EUR) for getting on a taxi. Vilnius veža taxi service – call  1450 (+370 5 233 3337). More information
Bus
There is fast public bus number 3G that can bring you from the Vilnius Airport to the city center or conference venue. The nearest bus stop to the Parliament Buildings (conference venue) is Juozo Tumo-Vaižganto st. (travel time: 15–20 min) from where you can reach Parliament Buildings in about 7–10 min walk. One-way ticket cost (if you buy from the driver) is 1 EUR. More information on timetables, route map. Bus number 88 will also bring you from the Airport to old town and city center. See stops.lt website to plan your trip.
Train
The train from the Vilnius Airport can bring you to the Vilnius Railway station. The ticket cost is 1 EUR. The train operates 16 times a day. Plan your trip using Litrail website.
If you are staying at Comfort Hotel (Kauno str. 14), you can reach it from the Railway station in 10-15 min walk (via Šopeno str. and Kauno str.). Other hotels or conference venue are accessible using public transport from the Railway station bus / trolley bus stops. One of the fast public busses departing from the Railway station and passing through the old town and city center, is bus 1G. See stops.lt website form more information.

Transportation in Vilnius
Vilnius trolley buses and buses start running at 5 in the morning and stop at midnight. Tickets for trolley buses or buses cost 1 EUR if bought on the trolley/bus. One-, three-, and ten-day tickets are available in the kiosks. For bus timetables visit www.stops.lt. Taxis can be called by phone (cheaper) or hailed on the street or at ranks at the railway and bus stations as well as in the old town.
Conference venue
The conference will be held in the Seimas Palace, the site of the Lithuanian Parliament. The first wing of the palace was constructed in 1976. In 2006, work started on building a new Parliament Hall, which was officially opened in September 2007.
Address: Gedimino ave. 53, Vilnius. To enter the Parliament Buildings please have your passport or ID card with you.
For working groups on July 3–5 Entrance of Building III will be opened. During the main conference (July 4–6), two entrances to the Seimas Palace will be opened (from Building III and Building II):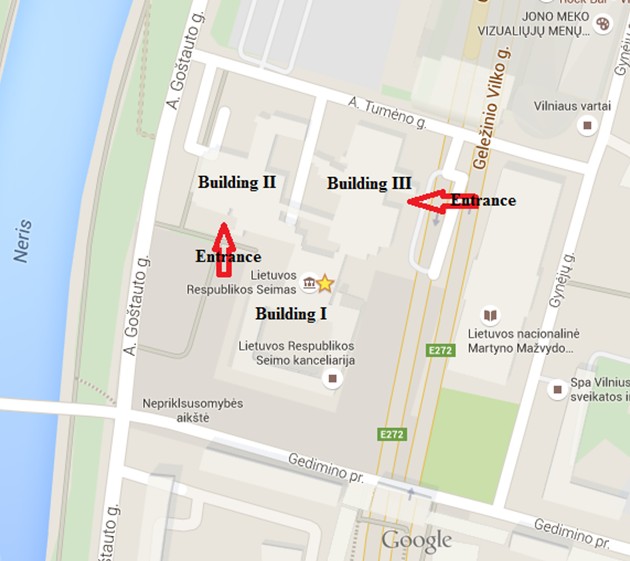 ITiCSE 2015 opening receiption will take place in Vilnius University Central Campus (Universiteto str. 3). We meet in the Vilnius University Library Courtyard, Universiteto str. 3, at 17.00 on Sunday, July 5th.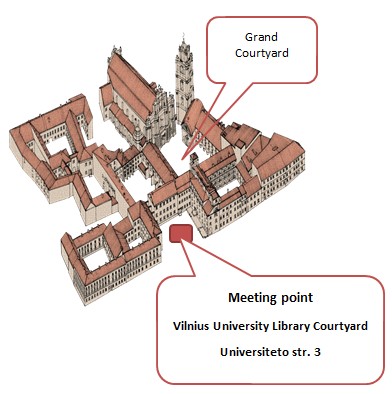 Vilnius University – the oldest and largest Lithuanian higher education institution. Since its establishment in the 16th century, Vilnius University, as integral part of European science and culture has embodied the concept­ of a classical university and the unity of studies and research.
The conference dinner on July 8 is served in the reconstructed Palace of the Grand Dukes of Lithuania, one of the most famous in Europe in the 15–17th centuries.